As part of a diverse community, Pikesville and Owings Mills residents display a wide array of interested and concerns. The POM Chamber sponsors and presents a lot of programs that reflects the breadth and scope of our community.
NOTE: DUE TO COVID-19, SOME EVENTS HAVE BEEN POSTPONED OR ARE NOW VIRTUAL.
Current events will be posted on our homepage and on our Facebook page.
Pikesville 5K Run/Walk
Hundreds of runners and volunteers participate in this event held in July.  The Walk/Run supports two great causes: There Goes My Hero and the Pikesville-Owings Mills Regional Chamber.
The event features a 5k run/walk, a 1-mile fun run for young children and their families, and a post-race celebration with a full breakfast and plenty of opportunities for networking and neighborly chats.
Update: The Chamber hosted a 2020 Virtual 5K in honor of our heroes during the pandemic. Our 2021 5K will be back at Festival at Woodholme and in person, currently scheduled for October 17, 2021 at 8am.
For more information click here.
Taste of Pikesville
The Chamber understands that the success
of our community's restaurants is crucial to the success of our community.  The annual Taste of Pikesville event brings together more than 300 people for an evening of delicious dining, fun and schmoozing - all under one roof.
Update: this event is currently on hold while our restaurants recover from the pandemic. We will let you know how we re-imagine this beloved community event once it is safe to gather, eat, and celebrate our local restaurants.
For more information click here.
Pikesville Farmers Market
Tuesdays, May-November, 2-6pm
May 18, 2021 is Opening Day!
The POM Chamber sponsors the Pikesville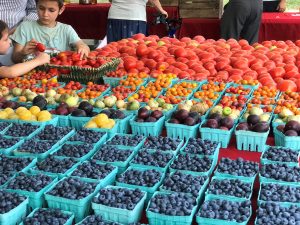 Farmers Market.  Regional vendors travel to Pikesville to sell fresh produce, baked goods, gluten-free and vegan gourmet treats, kosher meats, eggs, wine, whiskey, pickles, dog biscuits, cut flowers, premium CBD oil, natural beauty products and homemade soaps, custom gifts, jewelry, silk-screened t-shirts and Maryland-themed gifts. We offer the largest farmers market on Route 140. All vendors sell items that are hand-made and/or homegrown in Maryland and Pennsylvania.
Our market is located at Pomona Square and is open May–December from 2–6pm, rain or shine.  Make Tuesdays your weekly market day and enjoy the best of the season's produce at the Pikesville Farmers Market
For a list of our current vendors please click here.
Fall Festival
More than 4,000 visitors from the region flock to the Fall Festival each year. The festival is run by Harris Promotions, and a portion of the proceeds benefit the POM Chamber.
The festival features a variety of music, food, arts and crafts, a children's area with moon bounce, and face painting.  Don't miss the much-beloved antique car display at the festival!
If you are interested in being a vendor please CLICK HERE for the application.